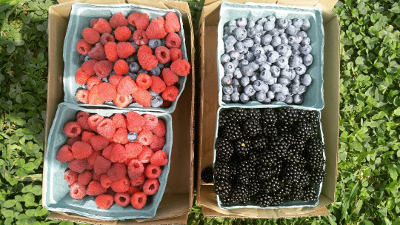 Our berry patch is filled with blueberries, raspberries, and blackberries from the summer through to the year's first frost. Picking typically starts around the following dates:
Blueberries: July 1st
Raspberries: July 20th
Blackberries: August 10th
How Does it Work
To pick, just stop on into the farm stand where we will give you a berry containers of your choosing – pints or quarts. Head on over to the patch and start picking. You are more than welcome to mix your berries to ensure you get all of your favorites. Once you are done, head back into the store to pay.
Pints are sold for $4 and quarts $8.
Berry picking is available now through the first frost. You can pick 9:00 am – 5:00 pm every day except Monday.