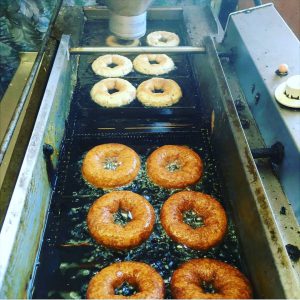 Our farm stand is forever changing with the seasons. In the Summer the store is filled to the brim with sweet peaches, nectarines, cherries, and summer vegetables. In the Fall, apples and pears take center stage. So do our pumpkins, gourds, and squash. The Winter brings fresh Christmas trees, holiday wreathes, and warm apple pies for your family gatherings. Then finally, in the Spring, is all begins again. In fact, if you plan your visit just right, you might just catch all of the trees in bloom. It's a truly spectacular site!
The farm stand is open all-year-round with the exception of a couple weeks in June. Our hours are Monday through Friday, 9:00am – 6:00pm. We are also open Saturday and Sunday from 9:00am – 6:00pm. Please note: during the Winter the store is closed on Wednesday.
Fruits & Vegetables
Every piece of fruit you find in our store comes from our trees. Our fruit trees include: apples (over 20 varieties), pears, peaches, nectarines, plums, and cherries. We also have blueberries, blackberries, and raspberries right across the street for picking.
Our apples, pears, peaches, nectarines, and plums are available both in bulk and in small quantities. All of our fruit is sold by: the pound, quart, 1/4 peck (peaches, nectarines, plums, pears), 1/2 peck (apples), and 1/2 bushel. We can even handle larger quantities with prior notice. Just give us a call to get more details.
Looking for fresh vegetables? We have plenty of those too. Depending on the season, you can find: tomatoes (regular, plum, heirloom), zucchini, corn, eggplants, peppers, cabbage, brussel sprouts, winter squash (butternut, acorn, buttercup, delicata, hubbard, spaghetti), pumpkins for cooking (sugar and long island cheese pumpkins), and even more.
Cider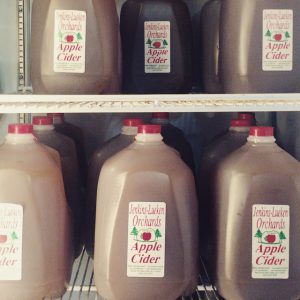 Our customers come far and wide for our apple cider. We press our cider right on the premises with no added sugar or preservatives. Curious how we do it? You can get a sneak peak of the action in our video with the wonderful people at Visit Vortex.
Our cider is available by the pint, half gallon, and gallon.
We are also proud to announce our hard cider company – Yankee Folly Cidery. This cider is grown, blended, fermented, and bottled at the orchard.
The Bakery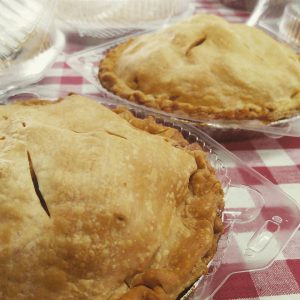 Warm apple pie, peach pie, cherry pie, apple walnut cake, brownies, cookies, caramel apples. Is your mouth watering yet? Our bakery is always filled with all sorts of sweets and treats in case that apple just isn't satisfying your sweet tooth.
All of our baked goods are handmade at the orchard using our very own fruits.
Oh, did we mention we have apple cider donuts! We know you can't get enough of them so we make them fresh every day. May I suggest a tall glass of apple cider and a cider donut? Trust us. It's a winning combination.
And Even More
In addition to our fruits and vegetables, cider, and baked goods, you'll find a plenty more available for sale. We have jams, jellies, peanut butter, decorative gourds, fresh flowers, local grass fed beef, milk, cheeses, eggs, and a forever evolving variety of seasonal items. Stop on in today and say hi!